The open application period for this funding opportunity has ended. Please check back soon for other opportunities that may be of interest to you.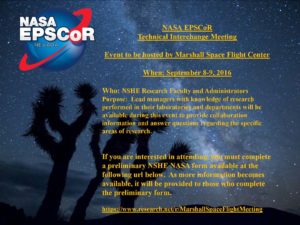 Travel Grant Opportunity
NASA EPSCoR Technical Interchange Meeting
September 8 – 9, 2016
*Event to be hosted by Marshall Space Flight Center
Deadline:  Applications will be considered on an ongoing basis.
NASA EPSCoR  has funding available for NSHE Research Faculty and Administrators to attend the NASA EPSCoR Technical Interchange Meeting, September 8-9, 2016.
Purpose:  Lead managers with knowledge of research performed in their laboratories and departments will be available during this event to provide collaboration information and answer questions regarding the specific areas of research.
If you are interested in attending, you must complete a preliminary NSHE NASA form.  As more information becomes available, it will be provided to those who complete the preliminary form.