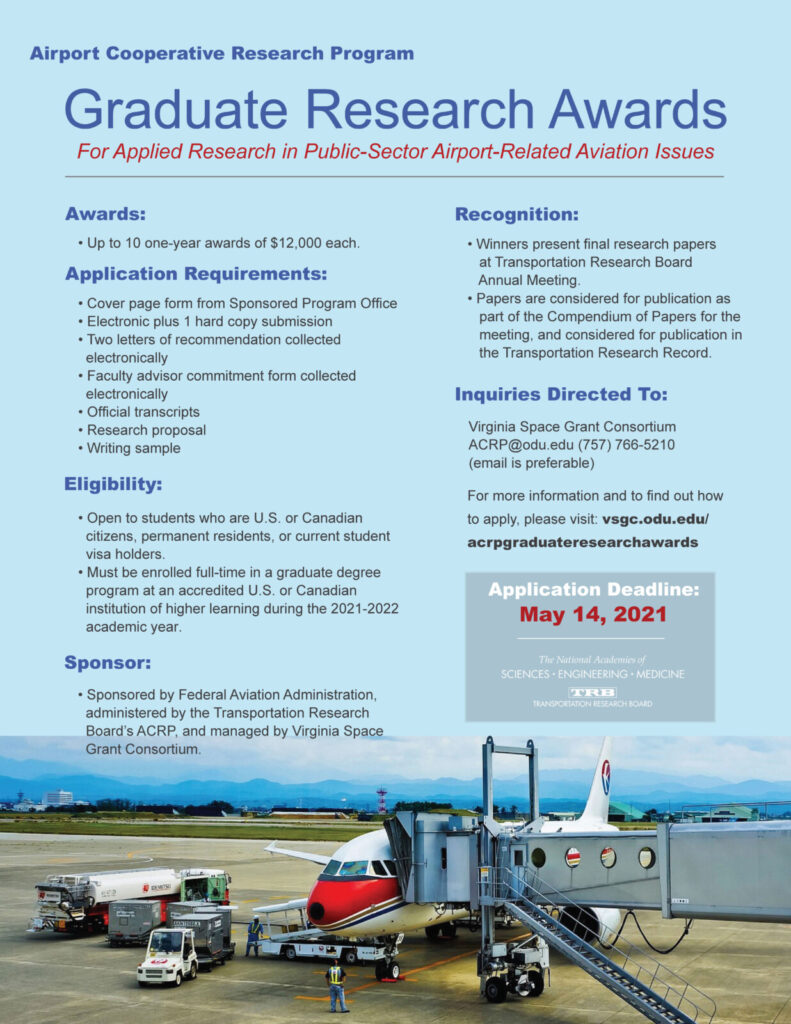 The ACRP (Airport Cooperative Research Program) Graduate Research Award (GRA) is intended to stimulate thought, discussion, and research by those who may become the future airport managers, operators, designers, and policymakers in aviation. The focus of this graduate student research program is on applied research on airport and related aviation system issues to help the public sector continue to improve the quality, reliability, safety, and security of the U.S. civil aviation system well into the foreseeable future.
This program offers $12,000 Graduate Research Awards that include mentoring by national experts assigned by the ACRP, facilitation of access to ACRP resources, an expense-paid research presentation at the Transportation Research Board annual meeting in Washington, DC, and publication in the Transportation Research Record.  Students must be supervised by a faculty member and be attending an accredited higher education institution in the U.S. or Canada.  U.S. and Canadian citizens and permanent residents are eligible as are students who have an active student visa throughout the award period.
The application can be completed online with components including a research proposal, faculty advisor commitment, resume, transcripts, writing sample and other elements.  Applications are due on May 14, 2021.  Ten awards are anticipated for the 2021 – 2022 Academic Year.
The program is managed for the Airport Cooperative Research Program by the Virginia Space Grant Consortium based in Hampton, VA.