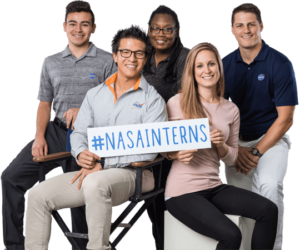 NASA internships and fellowships leverage NASA's unique missions and programs to enhance and increase the capability, diversity and size of the nation's future science, technology, engineering and mathematics (STEM) workforce. Internships are available from high school to graduate level. Internships provide students with the opportunity to participate in either research or other experiential learning, under the guidance of a mentor at NASA.
The deadline to apply for a NASA internship is March 5, 2021. This week NASA will be hosting a series of recruitment events for students: 
Tuesday, February 23:
Explore NASA: Internships and Pathway Stories from Natives at NASA. Register here.
Wednesday, February 24:
Hispanic Outreach and Leadership Alliance (¡HOLA!) Student Info Session. Register here.
Thursday, February 25:
Celebrating Black History Month w/ NASA Internships. Register here.
Please visit intern.nasa.gov to get a jumpstart on the material that will be covered and start your profile so you can ask even more specific questions of the panel. Please note this is first come first serve and free! Webinars will be limited to 100 participants each. For any questions, please contact doreen.r.thomas@nasa.gov.