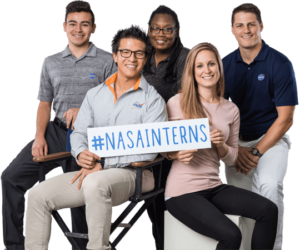 The NASA Climate Change Research Initiative (CCRI) is a year-long STEM engagement opportunity for educators and graduate students to work directly with NASA scientists and lead research teams in a NASA research project hosted at either the NASA Goddard Institute for Space Studies in New York City, NY; NASA Goddard Space Flight Center in Greenbelt, MD; or NASA Langley Research Center in Hampton, VA. (The program is currently taking place virtually). During the fall and spring terms of CCRI, the research team consists of NASA Principal Investigators who lead high school educators and graduate student research assistants to become immersed in a NASA science research area related to climate change. During the summer session, the primary research team adds an undergraduate intern and a high school intern to the CCRI research team. The entire team works collaboratively on a full-time basis to complete the research project, deliver a presentation, write a scientific paper, and create a scientific poster that is presented at the NASA Goddard Institute for Space Studies, NASA Goddard Space Flight Center, and other regional science conferences and symposiums.
CCRI Autumn 2021-Summer 2022
Research opportunities for educators, interns and grad students during Autumn 2021 through Summer 2022 are in the following projects:
Atmospheric Rivers in a Changing Climate @ GISS
Characterizing the Urban Land Surface Temperature via an Innovative, Multi-Platformed Suite of Satellite and Ground-Based Remote Sensing Technologies @ GISS
Climate Change in the Hudson Estuary — Past, Present, and Future @ GISS
Earth Observation Applications for Resiliency: Assessing Climate Change Impacts in Urban, Agricultural, and Natural Environments @ GISS
Connecting the Local Urban Fabric to Global Climate Change @ GSFC
The Expanding Legacy of Landsat — Documenting Environmental Change Beyond Five Decades @ GSFC
Eligibility Requirements:
U.S. Citizen
Cumulative 3.0 GPA (on a 4.0 scale)
Students (high school through graduate) in degree-seeking programs or within 6 months post-graduation
16 years of age at the time of application (no exceptions)
All internships have a stipend.
Program Dates:
High School: July 5 – Aug 12
College: June 6 – Aug 12 (Non-CCRI projects) or June 20 – Aug 12 (CCRI projects)
The application deadline for students is
March 4.
To apply, please visit the following website: NASA Intern, click on Interns > Apply Now and create a student profile on NASA STEM Gateway.