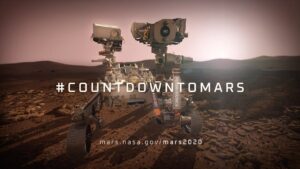 On February 18, NASA will attempt to land a new rover on the surface of Mars. NASA invites students of all ages, educators, parents, campers, museums and other institutions to participate in the adventure of this historic landing. NASA has created a STEM Education Toolkit with links to the "Mission to Mars Student Challenge" to lead students in designing their own Mars mission, plus activities, lessons, interactives, social media and more to allow classrooms, families, and individuals to ride along. In addition, there will be a series of programs broadcast for educators and students in the days and weeks leading up to landing. 
Here are some of the particulars:
Named Perseverance and carrying a helicopter named Ingenuity, this car-sized rover is designed to search for signs of ancient microbial life and collect samples of Mars for return to Earth.
Landing events will be broadcast live on February 18 starting at about 11:00 AM PST/2:00 PM EST in English and Spanish with touchdown at about 12:55 PM PST/3:55 PM EST.  Watch live.
Your one-stop shop for extensive Perseverance education and public engagement materials and resources is the

 

#CountdownToMars

 

Mars 2020 STEM Toolkit.
Learn all about the "Mission to Mars Student Challenge" launching in January. The challenge culminates on Feb. 18, when students can land their missions along with the Perseverance Mars rover! Participants will also have the opportunity to join live stream Q&As with NASA experts and submit student work and questions for the landing day broadcast.
Find the schedule for televised educational events in advance of landing day at the Challenge and Toolkit sites and at Mars

 

Watch Online.
Would you like a preview? Perseverance will be following much the same path as the Curiosity rover did in 2012. Watch Curiosity's "Seven Minutes of Terror!" video.
This is a historic opportunity to engage all students and inspire them to consider STEM careers. Please share this widely with your colleagues, students, and families and via networks, social media (#CountdownToMars) and newsletters.