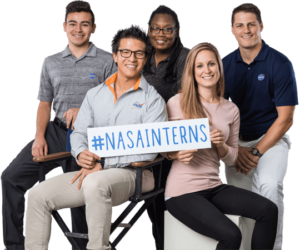 Pathways Internship Program is a great way for you to launch your career with NASA! Specializing in multi-semester experiences, the Pathways Internship Program prepares you for a career at NASA and offers a direct pipeline to full-time employment at NASA upon graduation. In addition to the Pathways Internship Program, there are many other exciting types of internship opportunities at NASA—check out intern.nasa.gov for more information.
All Pathways Interns must meet the following eligibility requirements: 
Be a U.S. citizen;
Be at least 16 years of age;
Be enrolled or accepted for enrollment on at least a half-time basis in an accredited educational institution and maintain enrollment at least half time as defined by the institution;
Be pursuing a degree or certificate;
Currently have and maintain a cumulative 2.9 grade point average on a 4.0 scale;
Be able to complete at least 640 hours of work prior to completing your degree/certificate requirements; and
Required to sign a Pathways Participant Agreement.
Required to undergo a pre-employment background investigation
Male applicants born after December 31, 1959, must certify that they have registered with the Selective Service System, or are exempt from having to do so under the Selective Service Law.
Vacancies also require that applicants be available to begin work between a predetermined timeframe, typically the subsequent two semesters following the closing date of the vacancy for which you applied.
Students can submit applications through Friday, April 15, 2022. Listings can be found at USAJobs.gov by searching for "NASA Pathways".