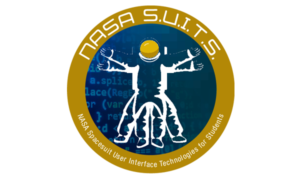 JSC Education is launching a new STEM Opportunity for Students that will challenge students to design and create space suit information displays using an augmented reality (AR) environment and we need your help!
Undergraduate and Graduate Students
NASA Spacesuit User Interface Technologies for Students (SUITS) is looking for undergraduate and/or graduate student teams from accredited U.S. institutions of higher learning (military academy, technical college, community college, or university) to submit a written proposal to design, build, and test an information display system within an AR environment to assist astronauts in completing EVA tasks.  The goal is to demonstrate different modes of visual and audio communication in order to determine the best methods for displaying and communicating information to astronauts. The test week will take place May 21st – 25th, 2018. 
Virtual Q&A sessions will be hosted by the technical review team for student teams and faculty advisors on October 24th and 30th, 2017.
Letters of Intent Due:  November 10, 2017
Written Proposals Due:  December 15, 2017
Team Selections to be Announced: By January 15, 2018