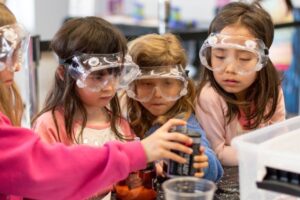 NASA Teams Engaging Affiliated Museums and Informal Institutions (TEAM II) is soliciting proposals from U.S. non-profit science museums, planetariums, youth-serving organizations, and libraries to uniquely perform NASA education directly aligned with space exploration, aeronautics, space science, earth science, or microgravity. This new Community Anchor Awards for TEAM II (ANCHR) supports institutions in strengthening themselves as a local NASA STEM informal education community resource.
Proposal Deadline: November 14, 2022 
Note: Higher Education Institutions are not eligible to propose for this opportunity, however, Informal Education Institutions integrated within a Higher Education Institution may apply under very specific conditions, as detailed in the eligibility section of the NOFO.  Higher Education Institutions are generally eligible to be team members and receive sub-awards.