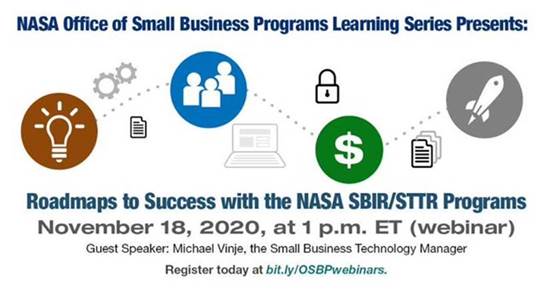 Do you have a technology idea you think can assist NASA in achieving its missions, and possibly fulfill other industry or community needs?
The NASA Small Business Innovation Research (SBIR) and the Small Business Technology Transfer (STTR) programs' annual solicitation opened November 9, 2020, with more than $200M in funding opportunities. This may be the initiative you need to bring your idea to life!
NASA Office of Small Business Programs Learning Series presents Roadmaps to Success with the NASA SBIR/STTR Programs, on Wednesday, November 18, at 1:00 p.m. ET.  This free webinar features Michael Vinje, the Small Business Technology Manager with NASA's Kennedy Space Center (KSC), who will discuss how the programs work and how your company can take part in the solicitation process.