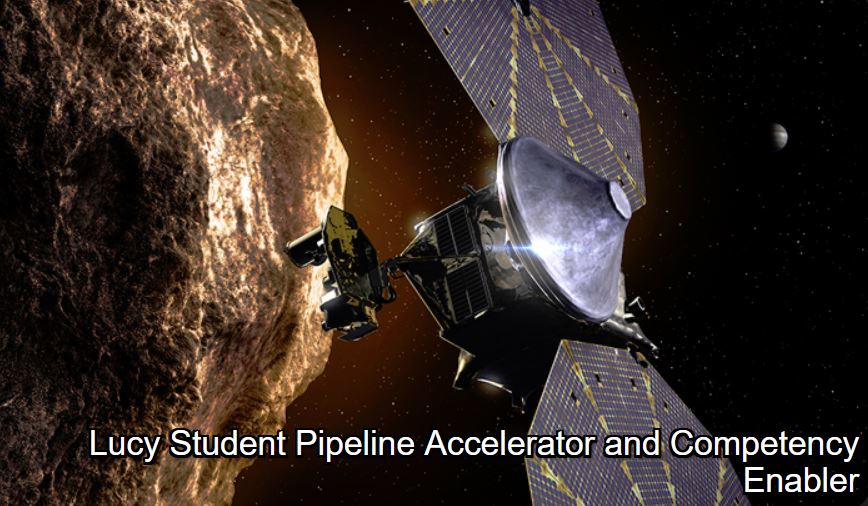 Are you an undergraduate science and engineering student interested in pursuing a career with NASA? Would you like to gain skills, knowledge, and competency in NASA mission protocols, procedures, and practices?
 
NASA's Lucy Mission to Jupiter's Trojan Asteroids is currently accepting applications for its new student collaboration program –  the Lucy Student Pipeline Accelerator and Competency Enabler (L'SPACE) Virtual Academy. This interactive, team-based, 12-week program is designed to engage a diverse population of undergraduate college/university science and engineering students in rigorous, project-based STEM workforce development. 
Learn from engineers and scientists working on NASA mission;

Participate and apply what you learn in mission-related design challenges;

Strengthen your resume for internship and career opportunities; 

Receive mission development skills training;

Acquire strategies to help you effectively market your capabilities to NASA and other space-related companies and organizations; and 

Gain helpful insights into the developing space economy workforce demands and opportunities.
Cost: Free! You invest your time, passion, and dedication to participate!
The applications are due January 10thand selected participants will be notified of acceptance by January 14th. 
The Spring Academy – Level 1 will occur on Thursdays and start on January 20that 4:30pm PT, 5:30pm MT, 6:30pm CT, and 7:30pm ET.
Questions? Please contact Sheri Klug Boonstra – sklug@asu.edu