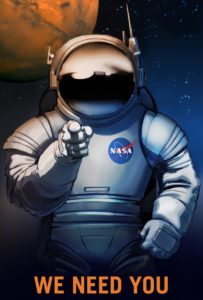 From designing systems and architectures for exploring the Moon and Mars, to building prototypes for extraterrestrial water extraction and prospecting, to exploring the permanently shadowed regions of the moon – there is a competition for everyone!
Teams who submit Notices of Intent (NOIs) by the respective deadlines will be invited to participate in interactive Q&A sessions next month with the judges from each competition. Don't miss out!
·     September 27, 2019 – BIG Idea Challenge NOI Deadline
·     October 4, 2019 – RASC-AL Special Edition: Moon to Mars Ice & Prospecting Challenge
·     October 15, 2019 – RASC-AL NOI Deadline
Participation stipends are awarded to the finalist teams in each of these competitions. Please see below for more details on each challenge.
2020 BIG Idea Challenge: Capabilities to Study Dark Regions on the Moon
NOI Deadline: Friday, September 27, 2019
Proposal Deadline: Jan. 16, 2020
2019 RASC-AL Special Edition: Moon to Mars Ice & Prospecting Challenge
NOI Deadline: Friday, October 4, 2019
Proposal Deadline: Nov. 24, 2019