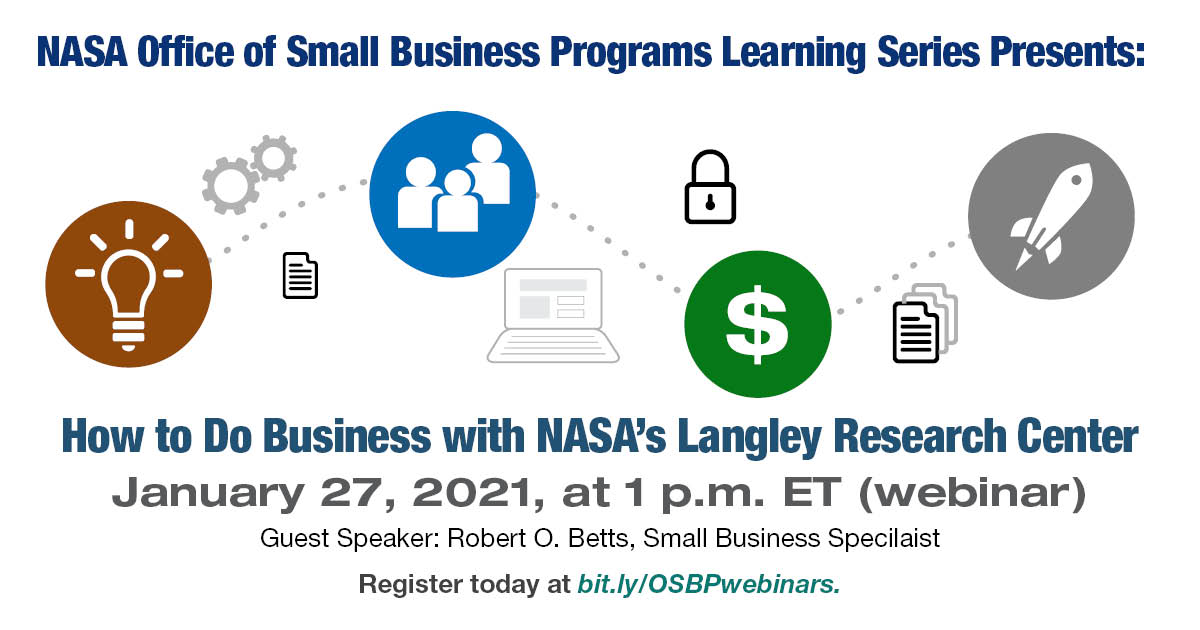 As NASA continues to innovate in the space exploration, scientific and research industries, small businesses will be critical to its success. Each Center plays a unique role in cultivating the vendors needed to ensure success.
Join NASA for an in-depth look at what it takes to work with NASA through NASA's Langley Research Center (LaRC). This hour-long webinar will be led by Mr. Rob Betts, the Small Business Specialist for the Virginia-based Center.
Mr. Betts will discuss best practices for small businesses to navigate the NASA procurement process, as well as specific industries, products and services LaRC is currently looking to work with. Mr. Betts will also be joined by the following guest speakers:
Carrie Roades (Partnership opportunities),
Dr. Keith Woodman (SBIR/STTR opportunities),
Krista Jensen (Technology Transfer opportunities), and
Dorian Derse (Subcontracting opportunities with Jacobs)
If your company, university or organization is interested in working with NASA, this is the webinar for you!
Log-in information for this online class will be sent after individual register, and reminders will be sent the day before and day of the webinar.
If you have questions about this topic, email them in advance to smallbusiness@nasa.gov and type "OSBP Learning Series Question – LaRC" in the subject line.